Bounce-a-Palooza Honolulu wants to make your rental as easy as possible!
Your rental includes SET UP, BREAK DOWN, and PICK UP. We also offer FREE DELIVERY with our Ultimate Package! All military housing and military base deliveries are free!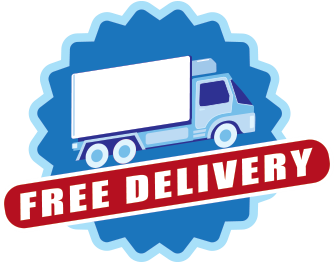 Not interested in the Ultimate Package? We charge a $0.70/mile, round-trip delivery fee calculated from our truck loading area near the Honolulu Airport to your delivery site.
If your event is more than 20 miles from the Honolulu Airport area, please inquire with us to see if we can meet the demand of your delivery for your requested date. We are a small business, and we have yet to expand our logistics to meet the demands of a busy delivery weekend island-wide. Rentals outside of our usual delivery area may be accepted on a case by case basis.
Frequently Asked Questions
No, we do not require a deposit.
Payment for your rental is due in full at the time of delivery. We accept cash or credit card. Sorry, no personal checks.
For delivery, dry bouncers will take about 30 minutes and water slides will take between 30 to 45 minutes. This time for set up includes discussion with you about where to set up, inflating the bouncer/water slide, cleaning, and the signing of paperwork. Pick ups can take between 20 to 30 minutes. Please note that water slides will contain gallons upon gallons of water at the end of each use and is very heavy. Therefore, some extra time may need to be taken to drain as much water as possible when the delivery crew is picking up to prevent any employee injuries. We appreciate your understanding.
The best place to set up your inflatable is a flat, open, grassy area free of sharp or pointy items, but cement, concrete, and asphalt are okay too. Please make sure to clean up after pets. You need at least one foot of clearance around the perimeter of the inflatable with the entrance side facing an open area.
Each inflatable requires two air blowers and each air blower requires their own electrical circuit. Please provide at least two separate electrical circuits. Please note that these are not simply separate outlets. To check what different electrical circuits are in your household, refer to your electrical box that contains switches often labeled with different areas of the house. So long as we plug each air blower into separate areas of the household/property, consistent power should be no issue. We provide extension cords with your delivery and no extra charge.
If you are unable to provide two separate electrical circuits, the inflatable will require a generator. We rent generators for $50, which will include a full gas tank that will provide power for about 7 hours.
For water slides, please have an outdoor water spigot available. Hoses will be provided.
As of March 2022, we are only able to set up at parks that are not under City & County. We are working to get back on board with the C&C. We are more than happy to set up in any neighborhood parks or private parks. Please accept our apologies for the temporary inconvenience.
You may cancel your rental on the scheduled day of delivery. Please call two hours prior to your drop-off time. No refunds will be given once an inflatable is delivered, set-up, and paid for. If passing showers occur during your event, exit the inflatable and turn off the blower. You may resume use after the rain stops. Bounce-a-palooza Honolulu watches the weather very carefully and reserves the right to cancel any rental when inclement weather poses a risk to you and/or our equipment. Cancelations may be made for heavy rain with standing water, 20 mph or greater winds, and lightening.
Yes, Bounce-a-palooza Honolulu is fully insured and licensed. Please let us know if your venue requires proof of insurance.
Yes, you will need to sign a Rental Agreement at the time of delivery. Some of the general safe and responsible use guidelines include:
ADULT SUPERVISION IS ABSOLUTELY REQUIRED!
No "Silly String", gum, candy, drinks, food, cigarettes, confetti, soap, or any other substances are allowed in the Unit.
Remove shoes, jewelry, watches, pocket contents, glasses, and other sharp objects before entering the Unit.
To avoid neck and back injuries, flips, wrestling and bouncing into others are not allowed.
Do not move the Unit from its set up location.